If you ever played a sport growing up, chances are you heard a coach yell, "Get your hands off your knees!" while you and your teammates were gasping for air.
Said coach would then insist you put your hands on your hips or on top of your head, instead. Their reasoning was that one, standing tall allowed their team to open their lungs and take in more oxygen, and two, bending over is a sign of weakness to be avoided at all costs.
The funny thing about this is that a recent study found bending over to be the superior recovery posture compared to the classic "hands on the head" pose.
The study (Michaelson et. al, 2019) compared two postures ("hands on knees" vs. "hands on head") to see how they impacted athletes' recovery from high-intensity interval training.
The study found that the "hand on knees" posture resulted in superior heart rate recovery and greater tidal volume (the amount of air inhaled into the lungs with each breath) compared to the "hands on head" posture.
How could this possibly be? After all, doesn't having your hands on your head "open up your lungs" while bending over close them off?
Not quite. The problem with the hands on the head posture is that it flares your ribcage upwards, extends your back, and closes off your posterior ribcage so it cannot effectively expand during inhalation. The posterior ribcage actually contains a large volume of your lung tissue, so closing it off is far from ideal. This inhibits the diaphragm, the primary muscle of inhalation, from working effectively. To overcome this, many of your back and neck muscles will try to make up for the lack of diaphragm function during inhalation.
This is a textbook example of inefficient breathing.
A more optimal position would be to place your hands on your knees and look slightly upwards. Unfortunately, the athlete in the above photo from the study is looking down instead of up, but is she were looking up, she'd be in a more efficient position for her airway, as the cervical extension would allow proper airflow into her lungs.
There's a reason your body naturally gravitates to the "hands on your knees" position when you're absolutely gassed during a workout. When you're really tired, your body will want to bend over and put your hands on your knees. The body knows best when it comes to these things, so why fight it? With your hand on your knees, your lungs are allowed to fill with a greater volume of air. This in turn supplies more oxygen to the working tissue so you can more quickly clear the oxygen debt you've accumulated through exercise. Your oxygen debt is essentially the specific amount of oxygen you need to recover when fatigued post-activity.
When coaches yell for athletes to get their hands off their knees, they're really taking them out of their optimal recovery position. Now, the question is whether they care more about efficient recovery or "looking tired".
If you're of the mind that what the opponent thinks is irrelevant, then athletes should be allowed to put their hands on their knees as they catch their breath, as this is the most optimal way for them to recover. Suboptimal recovery means a more fatigued athlete.
In my mind, the answer is clear. I'll leave it to the competition to recover in an inefficient manner, while my team will be ready for the next play before they are.
​
Real Food Mac and Cheese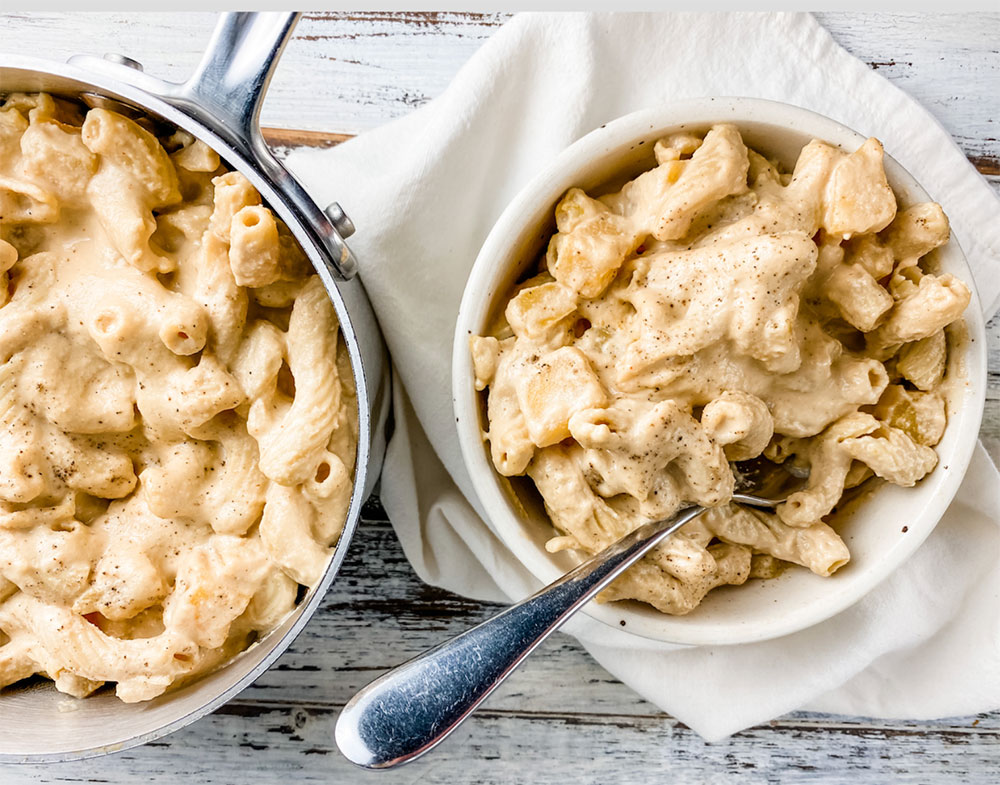 Here's a healthy take on Mac and Cheese that you and your whole family will love. What makes it healthy? It's dairy-free, made with chickpea noodles and contains chunks of real butternut squash. This turns a meal that is traditionally full of simple carbs and fat into one that has plenty of protein and fiber to help support your fitness and fat loss goals. Enjoy!
Courtesy of RealHealthyRecipes.com
What you need
Servings: 8
1 cup raw cashews
1 (8oz) box Banza Cavatappi (made from chickpeas)
2 cups Butternut Squash, peeled, seeded and cubed
1 teaspoon coconut oil​
1 yellow onion, chopped
1 teaspoon minced garlic
1 tablespoon coconut flour​
1½ cups almond milk (or other nondairy milk)
½ cup nutritional yeast​
½ teaspoon sweet paprika​
1½ teaspoons sea salt
1 teaspoon lemon juice
Instructions
1.Place the cashews a bowl and fill with hot water. Cover and set aside for 10 minutes.
2. Bring 8 cups of salted water to a rolling boil. Add the pasta and butternut squash cubes and stir immediately. Cook for 10 minutes, until the desired firmness has been reached in both the pasta and the butternut squash. Strain and rinse with water. Set aside.
3. Heat the coconut oil in a medium-sized saucepan over medium heat. Add the garlic and onion and sauté for 5 minutes, until soft. Add the coconut flour and sauté until golden.
4. Put the onion mixture, the drained cashews, and the remaining ingredients in a food processor and blend until smooth.
5. Pour the sauce back into the saucepan and cook over low heat, stirring frequently, until warmed and thickened. Add the drained, cooked pasta and butternut squash to the pan, stir well and serve. Enjoy!
Nutrition
One serving equals: 274 calories, 15g fat, 32g carbohydrate, 9g fiber, 6g sugar and 16g protein.
Motivate your friends, family and co-workers! Use the "refer a friend" link below to forward this newsletter and subscribe your friends.